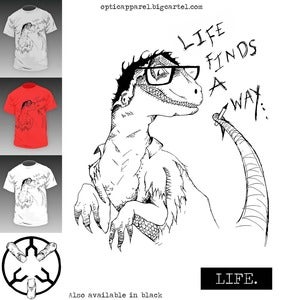 £

15.00
BEFORE YOU ORDER READ BELOW!
Poor poor Malcolm, Chaos finally got him. Art can be formed as reaction to anything in this case reaction to my love of Jurassic park.
This is a pre-order inclusive deal, in order for us to make the shirt we need to guarantee at least 30 pre-orders, this is also a limited release shirt no more than 100 of these will EVER BE MADE! ( in other words if you want this limited edition design on a shirt you need to get your name and money down for the pre-order! also with pre-orders you will not be charged for shipping, however this does not apply if you buy with another non pre-order design )
CURRENTLY AVAILABLE FOR PRE-ORDER ONLY!
WE MUST STIPULATE THAT THOUGH THIS ITEM IS HERE ON THE PAGE IT IS ONLY A PRE-ORDER, YOU WILL BE CHARGED! AND YOU WILL NOT RECEIVE YOUR ORDER UNTIL WE SECURE 30 PRE-ORDERS
( The page will be updated daily so you can see just how many orders we need to get it under production, you will receive your order a maximum of 20 working days after we get the final count of 30 through. If I do not receive the required pre-orders within a year of 17/11/12 all orders for this shirt will be refunded)
Though not represented in the current image this shirt is also available in black. with a white print.
20/30 ordered